We are excited to have the opportunity to share an amazing, locally made CD for children, that's getting national attention.
Big Backyard was created by Mark Galasso, local Baton Rouge musician, during his tenure teaching music to pre-school children at Montessori Children's House (Circa 1968), the oldest private Montessori School in Baton Rouge, Louisiana.
We tested the CD out on a bunch of boys ages 2, 4, 7, 9 and 11 and they all enoyed Big Backyard, the songs are catchy, not too long but just long enough to memorize and enjoy for both kiddos and parents alike. The boys really enjoyed "Smiles Miles Johnson," a fast and fun song that your littles will love to dance to over and over again, but not to worry, these songs are so good you probably won't mind listening to them over and over again. As a mom with boys that growing up faster than I thought possible, my favorite song was "Listen, Listen," it brought me back to the days of rocking babies and singing little boys to sleep. We fell in love with this collection of children's songs with sweet life lessons tucked into each one.

The songs bloomed naturally from Mr. Marks direct experiences working with the children in a joyful and productive environment. Having been affiliated with Montessori since his childhood, the songs are imbued with educational and ethical principles of the Montessori Method. Many of them are quite short by design as they were written with pre-school aged children in mind. But, they are also sophisticated enough that adults will like them too.
Created deep down in Louisiana bayou country, these catchy children's songs are imbued with Montessori Method. Delightfully fun, yet sophisticated songs built to last with ethical lyric themes woven into playful tapestries of ear candy enjoyed by adults and children.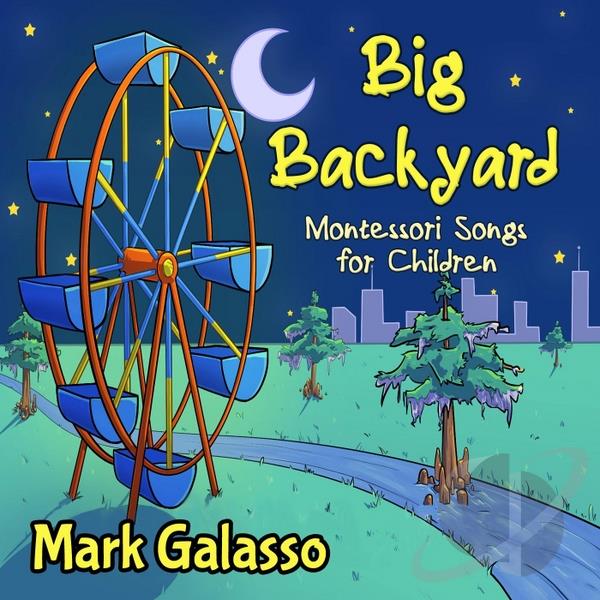 With consideration given to preserve the timeless nature of these special songs, the instrumentation on Big Backyard was performed with real instruments: Voice, acoustic guitar, brushes/drums, bass, chromatic & bass harmonica, Dobro, Trumpet, Trombone, Flute, Strings, Bassoon, Slide Whistle, Juice Harp and Percussion (Tambourine, Maracas, Shakers, Woodblock, Cowbell, Castanets, Hand Bells).
Montessori students have performed all of these songs for music class and graduations for the past five years. It is safe to say the songs have been put to the test; they are a hit with children and parents alike.
The goal with "Big Backyard" was to create some new "standard" children's songs that would endure the test of time and empower children through the liberating philosophical principals of Montessori.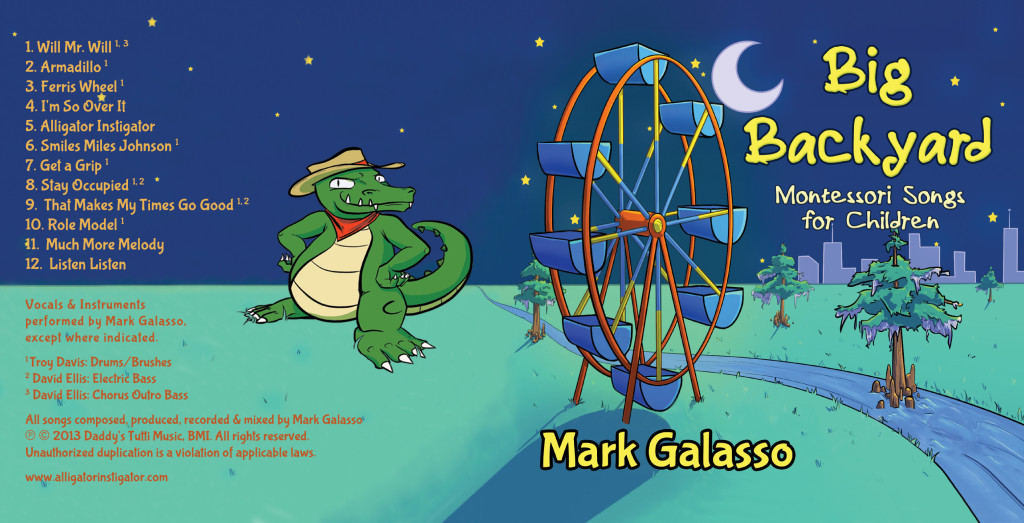 Purchase a "Big Backyard" CD here: CDBaby
Stream/Digitally Download Album/Songs here:
Big Backyard Montessori Songs for Children – GIVEAWAY
a Rafflecopter giveaway
The following two tabs change content below.
Tiany Davis
Tiany Davis, the woman behind Baton Rouge Moms has been blogging, micro blogging and building online communities since 2001. A Northern California native, Tiany moved to the Baton Rouge area in 1995 after meeting her husband, Baton Rouge Native Jazz drummer, Troy Davis in Paris, France. Tiany homeschools her four sons and enjoys sharing all things Baton Rouge & beyond! Her passion is supporting families where they live and love – locally!
Latest posts by Tiany Davis (see all)